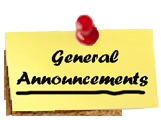 June 2, 2014
Physics classes looking for the reading on electricy can find a pdf version HERE. If you are looking for the online version go to http://cnx.org/content/m42299/latest/?collection=col11536/latest.
April 16, 2014
An outline of topics that will be on the final is found in the assignments list in the final folder. Note that some of the later topics we have not covered yet and because of changes in the curriculum they may be moved. Please start preparing on all of the topics up through the ones we have covered. The topics are in order.
March 31, 2014
Attention Juniors that are interested in going into Science, Engineering or Mathematics. There is a unique opportunity to be nominated for a $15,000 dollar scholarship to Rensselaer Polytechnic Institute. RPI has a good science and math program. If you may be interested in attending Rensselaer, please go to the link below, fill out the attached form, and return a hard copy to me before April 11th.

http://www.croomphysics.com/scholarships/Rensselaer_Medal.pdf



February 24, 2014



Want to get a Job at Google? Do you think GPA is the most important thing for getting this job? Are you worried more about the answer then the process? If you answered yes to each of these questions read the following article by Thomas Friedman.
http://mobile.nytimes.com/2014/02/23/opinion/sunday/friedman-how-to-get-a-job-at-google.html






November 11, 2013



The Sun's magnetic field is close to reversing its polarity. Its is an event that occurs every 11 years. A senior scientist at the Wilcox Solar Observatory explains what will happen. Watch at http://feeds.space.com/~r/spaceheadlines/~3/KcZ_eoVutfc/23550-sun-about-to-flip-poles-stanford-scientist-explains-video.html




November 8, 2013




Accelerated Physics the following policy will start immediately:

At the time of our class tests you will submit any homework problems that you completed to prepare for the test. These problems should be labeled so that someone can find the page from which these problems came as well as the problem number.




October 17, 2013



To read an article on The 20 Best- and Worst-Paid College Majors Click Here



Thoughts to Ponder:
&nbsp
If Everyone Is Special, No One Is Special
---Croom
Loading
---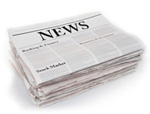 Lead in teeth holds secrets of person's origins, research shows
07/30/2014 06:11 PM
By Barbara Liston ORLANDO Fla. (Reuters) - The lead in human teeth holds clues about where a person grew up and can help criminal investigators and archaeologists working with old or decomposed corpses, according to a University of Florida researcher. Because lead ore deposits around the world differ, and as young people's teeth absorb traces of the metal in the environment, the region where a person grew up can be distinguished through lead analysis of a tooth, said geologist George Kamenov. "If you were born in Europe and then came to the U.S., yes, I will be able to see that," Kamenov said. In addition to aiding authorities in identifying bodies, the analysis can help archaeologists locate human remains on an historical timeline, he said.


NASA Unveiling Instruments for 2020 Mars Rover Thursday: How to Watch Live
07/30/2014 05:34 PM
Space agency officials will reveal the science gear they've chosen for the rover, which will launch toward the Red Planet in 2020, on Thursday at 12 p.m. EDT. You can watch the announcement live here at Space.com, courtesy of NASA TV.
Otzi 'The Iceman' Had Heart Disease Genes
07/30/2014 04:40 PM
Ötzi the Iceman, a well-preserved mummy discovered in the Alps, may have had a genetic predisposition to heart disease, new research suggests. The new finding may explain why the man — who lived 5,300 years ago, stayed active and certainly didn't smoke or wolf down processed food in front of the TV — nevertheless had hardened arteries when he was felled by an arrow and bled to death on an alpine glacier. "We were very surprised that he had a very strong disposition for cardiovascular disease," said study co-author Albert Zink, a paleopathologist at the Institute for Mummies and the Iceman at the European Academy of Bozen/Bolzano in Italy. Past research has revealed that Ötzi likely suffered from joint pain, Lyme disease and tooth decay, and computed tomography (CT) scanning revealed calcium buildups, a sign of atherosclerosis, in his arteries.
Octopus mom protects her eggs for an astonishing 4-1/2 years
07/30/2014 04:27 PM
By Will Dunham WASHINGTON (Reuters) - If someone were to create an award for "mother of the year" in the animal kingdom, a remarkably dedicated eight-limbed mom from the dark and frigid depths of the Pacific Ocean might be a strong contender. Scientists on Wednesday described how the female of an octopus species that dwells almost a mile below the sea surface spends about 4-1/2 years brooding her eggs, protecting them vigilantly until they hatch while forgoing any food for herself. It is the longest known egg-brooding period for any animal, they wrote in the scientific journal PLOS ONE. ...
---
---